FOR SALE: 1967 Sunbeam Alpine
For more details contact Jim Watson at spridget@charter.net
Price: $7,000 including all parts
The engine is the 1725 cc, and was rebuilt in the mid-90's
4 speed transmission
Many additional parts
Click here for more information.
ALL PROCEEDS FROM THE SALE
OF THIS CAR GO TO:

Posted 9/11/17


FOR SALE: 1973 Innocenti Mini Export 1300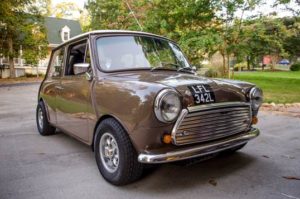 Italian Made with 6 clock dash
Bianco Avorio (White) over Castoro (Chocolate Brown)
A lot of car for only $14K
Contact Cecil Clontz – 865-657-5190
This Innocenti "Mini" was set up and used for track days in the UK and Europe. Driven regularly in the US. Very streetable. It has been driven at Goodwood, Brands Hatch, Hockenheim and Nürburgring to name a few. It has a nearly complete history including the original 1973 Dutch registration and most all invoices since.

It was converted to RHD when it was imported into the UK in 1981.
Posted 9/25/17


FOR SALE: 1949 Austin Dorset 2-Door Saloon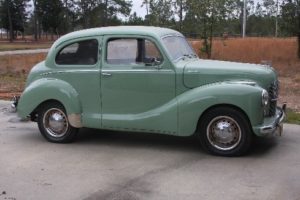 Possibly the most drivable Dorset in the world. It was restored by Peter Brauen (BMC Restorations, www.bmcrestorations.com), and his work is highly regarded. The car has won numerous awards, including Best of Show at the New Orleans British car show in 2011.
It is considerably upgraded. It has an MGB 5-main bearing engine, all synchro transmission, disc front brakes and upgraded rear drums, and air conditioning, as well as a number of other upgrades. Coolest retained feature is the trafficators – they work with an auxiliary switch. It is the original color, exterior and interior, although completely redone.


$15,000 and probably worth more. Email me for the complete story and list of modifications at giuliasupermike@gmail.com. Mike Hemsley, 571-239-7288
Posted 9/12/17


FOR SALE: 1976 MG Midget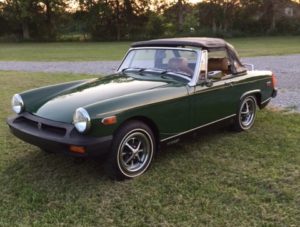 MG Midget, British Racing Green, 2-door, 29,000 originalmiles. Paint, interior, convertible top all original. Runs good. Good tires. Very clean. Price negotiable – make offer.
Contact Linda Flippo, Hendersonville, TN. Phone: (615) 417-5069 Price: $8,900

Posted 8/8/17


FOR SALE: 1979 MGB Roadster
1979 MGB roadster in excellent condition. This car is ready for a great season of fun in the sun! Has undergone extensive work: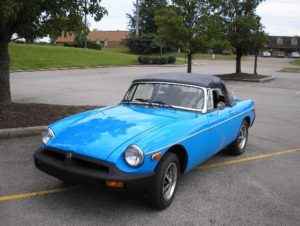 Rebuilt Engine including a new rocker shaft, new electronic distributor (no points), new coil, new oil pressure relief valve
New Radiator with thermostatically controlled electric fans
New Clutch with resurfaced flywheel
New Transmission Seals
New Distributor (electronic, no points)
New Engine Mounts
Convertible top in excellent condition
Body was stripped and repainted in 2009 before purchased by present owner
Interior in excellent condition
New front brakes all around, including new rotors Wiring to rear repaired
Price includes toneau cover, boot for top, car cover and workshop manuals

Price: $5,200  Contact: Ron Emrich 865/599-3058 or at ronemrich@hotmail.com
Posted 8/8/17

FOR SALE: Sprite and Midget parts.
For more details contact Jim Watson at spridget@charter.net
Posted 9/11/17